December 3, 2021
Posted By: Foreignerds
Foreignerds INC. Awarded as One of the Most Reviewed Global B2B Companies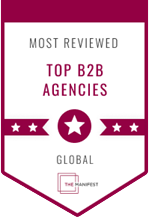 Since 2013, Foreignerds INC. has been helping businesses overcome their digital and IT challenges. As an experienced digital agency, we've formed close relationships with our clients as we support them in hitting their business targets. Today, we're proud to announce that we were recognized as a leading company on The Manifest, a company ranking platform.
To give you a better understanding of why this is a big milestone for us, here's the timeline of our journey leading up to this moment:
In 2013
Foreignerds INC. was established with a mission to provide top-notch outsourcing solutions to businesses of all sizes. Since then, we've been working with various clients regardless of industry and specialization to bring them increased operational efficiencies. With almost eight years of experience in the field, we're proud to have grown to over 100 team members. This flexibility and substantial capacity provide us with the resources we need to help more businesses.
In 2020
Kaddidlehopper Services, LLC, a consumer services company, partnered with us for the development of its WordPress website. To complement their business growth, the client required a website for better communication, enhanced marketing, and improved interest generation.
We're ecstatic to report that we've delivered the product beyond the client's specifications.
"The team was customer-focused and whenever we ran into issues, they immediately supported us. Everything was seamless, and as far as customer service was concerned, the project was handled professionally and they never missed a beat."
— Lita Cuen, Founder, Kaddidlehopper Services, LLC
In 2021
The Manifest unveils its list of the top companies in different industries for the year 2021. Our team is exhilarated to be recognized for our dedication to service and client satisfaction. Of course, this couldn't have been possible without the support of our partners. Thus, we want to thank all of you for believing in us.
Find out how our outsourcing services can lead your business toward efficient growth. Connect with us today to get started!